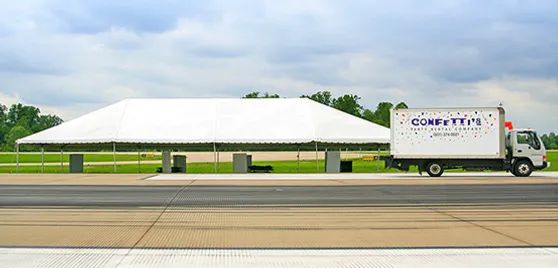 Normal Delivery Hours
Monday-Friday between the hours of 8:30am and 4:30pm. Our delivery charge is reasonable and includes return for pick-up. Please call for the rate to your area. Per diem may apply.
​
If delivery/pick-up is not possible during normal hours, a special delivery service can be arranged for an additional charge.
​
Deliveries are made to a dock, garage, or door that is readily accessible to our trucks. At the time of pick-up all rental items should be stacked in the same place and manner in which they were delivered. Deliveries made to locations that are not easily accessible will require an additional charge.
​
For additional charge, we offer setup and tear-down for table and chairs.
​
Delivery Rates
Delivery within 20 miles of Confetti's.......................$80.00
Delivery beyond 20 miles............................$5.00 Per Mile
Specific delivery time.............................Additional $100.00
Specific pick-up time.............................Additional $100.00
​
Will-Call
Most, but not all, of our rental items are available for you to pick up and return to our warehouse. All will-call tables and chairs, and a few other rental items, require the payment of a maintenance fee. Will-call pick-up must be made by 3:00pm, and returns must be in by 3:00pm. Additional charges will be assessed for items returned late.
​
Prior to Pick-Up or Return
All rental items should be refuse-free and replaced in their same delivery containers. Linens should be dry and refuse-free to prevent mildew and staining. All personal items and items from other vendors should be clear of the Confetti's pick-up staging area. Additional charges will be assessed when extraordinary cleaning is required.
​
Customer Responsibility
Complete responsibility for rented items remains with the customer from time of delivery/pick-up to the time of return.